The 14th Annual WMU-NYV Vocal Jazz Camp
August 1-7, 2022
That's right! The 14th annual Western Michigan University – New York Voices Vocal Jazz Camp is happening, but this time, IN PERSON. And when we say IN PERSON….we mean TOGETHER AGAIN!!!!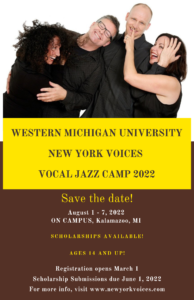 We're so excited to be able to be together again, making music and collaborating in person.  We have been so grateful for the virtual camp's successful attendance and it allowed us to learn new modalities and find new ways to connect and enrich our lives, but seeing the light at the end of the tunnel does our souls good.  We look forward to implementing all the latest health protocols to make the environment safe for us all and put the good practices to good use…..singing, learning, and connecting.
Please start thinking about what your plans are for this summer and consider spending a week leaning into the things that you are interested in.  We will have all of our usual suspects, Kim, Lauren, Darmon and Peter, directing an ensemble and teaching a handful of classes.  Our camp director and host Greg Jasperse will be directing the All Camp piece and teaching a few classes.  And if the attendance numbers are right, we will be inviting back the divine Rosana Eckert to spin her magic and Jay Ashby to lead you through Brazil.  If you have attended our camp, help us spread the word, if you know someone who you think might enjoy what we offer, please help us spread the word.
Begin your exploration visiting CAMP CENTRAL
The scholarship submission deadline is June 1, 2022.  APPLY HERE
Campers Helping Campers – Donate to the "Play it Forward" Scholarship, established by campers who want to create opportunities for other campers to enjoy the experience.  You don't have to be a past camper to donate to this worthwhile scholarship, the idea is to "Play it Forward"?  Donate Here
To Register for Camp, Click Here
Please direct your questions to our camp manager Maria Rusu at
Pricing:  $750 Full Camper (All Access to NYV directed ensembles and One on One Coaching), $600 Associate Camper (One on One Coaching with Greg Jasperse or special guest faculty TBA and performance at the Sunday Brunch Jam)                                    
The deposit of $200 is due by June 1, 2022.  Final payment is required by July 1, 2022.
Sample of Electives
Songwriting • Before and After • Singers You Should Know • Body, Breath, and Sound        • The Importance of Rhythm • Making a Song Your Own • Beginning and Advanced Arranging • Intermediate Improv • Advanced Improv • Artist in the Making • Use Your Ears Ensemble • Lyrical Improv and Phrasing • The Business of Me • Vocal Health               • Portuguese • Jazz History • Percussion • Listening Through the Layers • Writing your First Chart • Solo Transcriptions
Camp Schedule Overview:
8/1: Welcome and Orientation, 4 PM Pizza, Evening performance featuring Greg Jasperse, Gold Company and Special TBA Guest Faculty
8/2: Day 1 of camp, Evening Concert featuring NYV solo sets
8/3: Day 2 of camp, Evening Concert featuring Campers
8/4: Day 3 of camp, Evening Game Night (optional)
8/5: Day 4 of camp, Evening Concert featuring Campers
8/6: Day 5 of camp, Special Electives, 4 PM Ensemble Concert, 8 PM NYV Concert
8/7: Jazz Brunch and Jam Session