Vocal Jazz Camp
The Faculty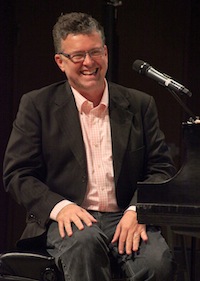 Peter Eldridge continues to combine his talents into an eclectic mix of performing, composing and arranging, recording, as well as teaching.  Peter was head of the Manhattan School of Music's jazz voice department for eighteen years and is now part of the voice faculty at Berklee College of Music in Boston.  Peter is also an artist-in-residence at Western Michigan University.  He has four critically acclaimed albums: Stranger in Town, Fool No More, Decorum, and Mad Heaven. His latest studio project, Disappearing Day, was released in July 2016 on Sunnyside Records and called "an out and out masterpiece" by allaboutjazz. Disappearing Day made many 'best of the year' lists, including Downbeat, Jazziz, and NPR. Some of Peter's current projects include his first full-fledged musical with the working title of 'The Woman in Question', co-written with Chicago playwright Cheryl Coons about the life, loves, and art of Austrian painter, Gustav Klimt; an upcoming recording of ballads with string orchestra and jazz trio, featuring pianist/arranger Kenny Werner and cellist Eugene Friesen, and Foolish Hearts, an acoustic duo featuring Peter with bassist Matt Aronoff.
---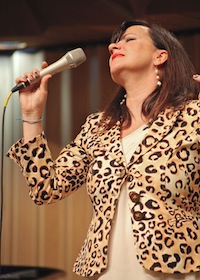 Vocalist and composer Lauren Kinhan has been creating genre-merging music for over 25 years as evidenced on her  solo CD's, Avalon, Hardly Blinking, Circle in a Square and her latest smash paying tribute to the late great Nancy Wilson, A Sleepin' Bee.  Not to mention her distinct songwriting contributions to the New York Voices' narratives. Her musical ideas shake up the traditional confines of jazz, pop and everything in between and offer instead, the listener an experience led by an accomplished, creative and curious mind. Legendary Phil Ramone describes Lauren as a true songstress, and that would be enough if that were her sole ambition, however being an important voice and mentor for the next generation is as much a calling as a need in today's complex world, and she has embraced that wholeheartedly.  Her training in jazz and deep connection to soul music has developed a voice that is expressive and fearless while her love of prose keeps her dreaming of ways to lead her listeners on different adventures. Christopher Loudon from Jazz Times said, "Sweet surprises lurk around every corner… shaping a pastiche that is hip, intelligent and vibrant" for Avalon and about Circle in a Square he said, "Lauren has never shone brighter."  While C. Michael Bailey awarded her latest creation A Sleepin' Bee with 4 1/2 Stars in Downbeat Magazine's coveted review lore.  Starting a new venture with Jazz Vocal and Grammy legend Janis Siegel in 2017, Vocal Mania is a monthly concert of epic proportions, curated by these generous artists who offer one of a kind sets featuring the breadth of amazing vocalists of all genres to push and beguile audiences and foster a community of support and a place to shine for artists of all stripes.  And finally, joining the NYU adjunct faculty to co-direct their Contemporary and Jazz Vocal Ensemble with Janis Siegel rounds out her very full performance career, private studio and guest educator appearances.
---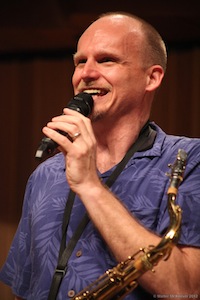 Recognized in both the jazz vocal and instrumental worlds, Darmon Meader is a highly respected vocalist, arranger and saxophonist. Darmon has achieved international recognition as the founder, musical director, chief arranger, composer, producer, saxophonist, and vocalist with New York Voices. As a member of New York Voices, he has released numerous recordings on the GRP, RCA/Victor, Concord and MCGJazz labels. In 2013, NYV will release two new CDs: New York Voices, Live with the WDR Big Band Cologne and their long awaited Christmas CD, Let it Snow, both of which feature Darmon's extensive arranging skills. In 2008, Darmon released his much anticipated debut solo CD, And So Am I. This solo project is a collection of jazz standards and original works, which reflects his varied interests and skills as a singer, saxophonist, writer and arranger.
---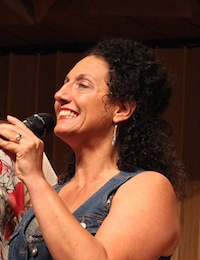 Kim Nazarian is a world renowned performing grammy nominated jazz artist, educator and clinician. Besides her work as a sought-after solo vocalist, she has been performing all over the world with the vocal group "New York Voices" (NYV) for more than 30 years. She is a jazz voice teacher via Skype for Vocal Jazz Majors at Ithaca College and she shares her perspectives on music and life as a musician through teaching private students in clinics, workshops, jazz camps and masterclasses, as well as through festival adjudication and guest conducting for singers on all levels in the US and abroad.
Nazarian was recognized as one of the top 50 most influential Armenian artists in 2012 and inducted into her High School's Hall of Fame. She is the lead vocalist for the Latin influenced jazz ensemble "El Eco", led by Argentinian drummer and composer Guillermo Nojechowicz, and sang as a guest vocalist on the latest CD of Gabriel Espinosa in 2018.
Besides many recordings of NYV, Kim Nazarian can be heard in many different projects as a soloist. In 2015 she released her solo CD entitled "Some Morning" with remarkable guests including Paquito D'Rivera, Gary Burton, John Pizzarelli and Sean Jones. Her record was met with critical acclaim stating: "This set sets the gold standard for Jazz vocalists" from Midwest Records, Chris Spector and Best Jazz Vocal CD 2015 from W. Royal Stokes, Jazz Historian and Critic.
Kim is proud to be one of the featured voices on Bobby McFerrin's "VOCAbuLarieS" CD that gathered three grammy nominations. She also collaborated with the Smithsonian Jazz Masterworks Orchestra and the Manchester Craftman's Guild on a concert tour dedicated to the late, great Ella Fitzgerald.
Nazarian's work as a lyricist can be heard on the NYV CD's and in other projects throughout the world, e.g. with Brazilian composer Ivan Lins and the Metropole Orchestra. Most notably, Nazarian wrote "World of Possibilities", the title track to the accompanying CD of Bill Strickland's best selling book "Making the Impossible Possible".
Kim Nazarian is a dedicated teacher of vocal technique and the art of ensemble singing and a highly valued clinician at numerous vocal festivals, including all over Europe. She has been representing the USA as a judge for the International A Cappella Competition "vokal.total" in Graz, Austria since 2011 and was a member of the 2017 jury at Vocal Asia. Touring the globe over the last 30 years, Kim Nazarian has given concerts at Carnegie Hall, Lincoln Center, Kennedy Center, and at the Montreal International Jazz Festival, to name a select few. Furthermore, Kim has conducted several All State Choirs in the US for NY, Arizona, Colorado, Washington and Maine.
Kim Nazarian is a magna cum laude graduate of Ithaca College and holds a Bachelor of Fine Arts in Acting. When not making music, she loves to be home in Oberlin, Ohio with her husband and son on her 6.5-acre farm… cooking and gardening.
---
Associate Faculty
---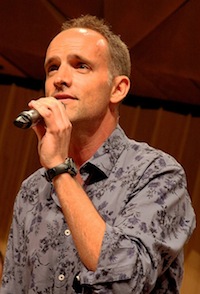 A world-renowned composer, arranger, vocalist and pianist, Greg Jasperse is the Director of Vocal Jazz at Western Michigan University.  He is also the director of Gold Company, WMU's award-winning vocal jazz ensemble.
No stranger to the stage or recording studio, his voice can be heard on numerous movie soundtracks including "Jurassic World", "Epic", "Oz, The Great and Powerful", "The Campaign", "Star Trek" and "Star Trek 2", Disney's "Sofia the First" as well as the Red Hot Chili Pepper's "Monarchy of Roses" and "The 2nd Law" from Muse.
Greg is a member of Vertical Voices.  He has also been honored to tour with the New York Voices as a sub.  Recent appearances include Winnipeg Symphony Orchestra, Riviera Maya Jazz Festival and the Gran Canaria Big Band as well as   the New York Voices/Bob Mintzer Big Band tour in Japan, 2014.  He has performed with Adele, Imogen Heap, Jennifer Holiday, Joe Williams, Rosemary Clooney, Dianne Reeves and Bobby McFerrin among others.
His music is performed around the world by many of today's premier vocal ensembles including Chanticleer, the Philippine Madrigal Singers, the Los Angeles Master Chorale, Chicago Children's Choir and the St. Olaf Choir.
His conducting credits include all-state vocal jazz ensembles in Michigan, Pennsylvania, Wisconsin, Arizona, North Dakota, New York, California, Oklahoma, Indiana, Missouri, Colorado, New Hampshire, Illinois, Iowa as well as the British Columbia Honors Jazz Choir and Musicfest Canada's Ellison Honour Choir,    
He is a graduate of University of Miami and Western Michigan University.
---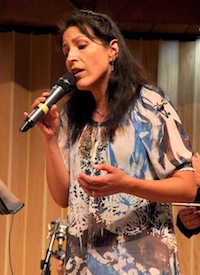 Rosana Eckert is an internationally recognized live and studio vocalist, songwriter, arranger, jazz educator, and voice-over talent based in Dallas, TX. As a vocal artist, she has recorded four solo CDs and performs regularly throughout the United States and Canada. She has had the pleasure of performing with such jazz greats as Lyle Mays, Kenny Wheeler, George Duke, Jon Faddis, Marvin Stamm, and Bobby McFerrin, and she toured Europe and Scandinavia as a sub in the Grammy Award-winning vocal quartet New York Voices. Her debut CD, At the End of the Day, was praised as "an occasion for celebration" by AllAboutJazz.com and "a superior debut" by the prestigious Cadence Magazine, and the CD was a finalist for Best New Jazz Album in the 2006 Independent Music Awards. Her newest CD, Small Hotel, once again showcases her knack for songwriting as well as her unique arranging style.
---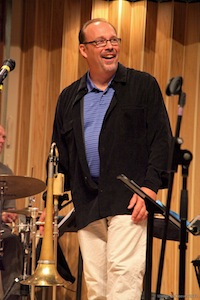 Associate Professor of Jazz Arranging and five-time Grammy Award-winning producer Jay Ashby is the recipient of multiple nominations in categories including arranging and engineering. Ashby is also known for his performances with such music icons as Paquito D'Rivera and Paul Simon, making him an exceptional musician and one of the most highly regarded performers and arrangers working in the field today. Ashby has performed, toured, and recorded with some of the most renowned jazz artists in the industry for over 25 years. As a member of Dizzy Gillespie's United Nation Orchestra and Dizzy's Alumni All-Star Big Band, Ashby forged long lasting musical relationships with jazz greats including Jon Faddis, Monty Alexander, James Moody, Jimmy Heath, Randy Brecker, Slide Hampton, and Bennie Green, among many others. Through his association with trumpet master Claudio Roditi, Ashby developed a strong affinity for Brazilian Jazz, which led to a ten-year stint as soloist with Astrud Gilberto, as well as arrangements, tours, and recordings with numerous Brazilian artists including Tania Maria, Kenia, Ivan Lins, Trio Da Paz, and the fathers of Bossa Nova Joao Gilberto and Antonio Carlos Jobim.