Press and Reviews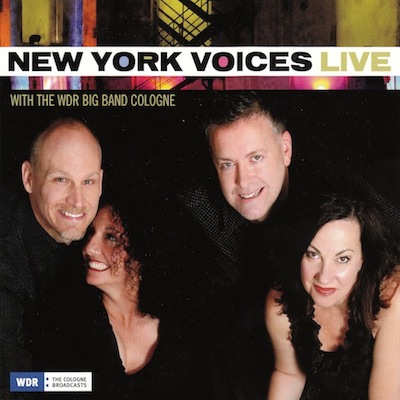 New York Voices: New York Voices Live with The WDR Big Band Cologne
By Edward Blanco at AllAboutJazz.com
March 7, 2013
The critically acclaimed vocal group New York Voices celebrates its 25th anniversary presenting their first full live album with New York Voices Live offering a collection of past favorites and brand new arrangements from the principal arranger-conductor renowned pianist/arranger Michael Abene.  A live recording from a May 2008 concert at the Kolner Philharmonie in Cologne, Germany with the world famous WDR Big Band Cologne, this long-awaited release opens the group's 2013 celebratory year with a bang. New to their repertoire are a jazz rendition of the Annie Lennox pop tune "Cold," Darmon Meader's a cappella vocal arrangement of the classic Lerner & Lowe standard "Almost Like Being In Love," and a swinging take of the Broadway staple "Love Me or Leave Me."
The Paul Simon piece "Baby Driver" begins the celebration featuring lead vocals by Peter Eldridge, WDR guitarist Paul Shigihara and alto saxophonist Karolina Strassmayer weighing in on instrumental solos.  The jazz standard "Stolen Moments" provides, no pun intended, some of the best moments of the disc showcasing group vocalist Lauren Kinhan dicing the lyrics with appreciable scats. Trombonist Ludwig Nub and alto saxophonist Heiner Wiberny provide the musical backdrop along with the rest of the band.
The other female vocalist of the group, Kim Nazarian takes the lead on the swinging "In The Wee Small Hours Of The Morning" performed in an upbeat lively tempo, this one also showcases the power of the band in another highlight of the album.  All four members of the vocal group sing in harmony on the terrific introduction of the Eldridge/Kinhan original "The World Keeps You Waiting" with Kinhan later leading accompanied by tenor saxophonist Paul Heller as the brass kicks in for one exciting number complete with audience approval throughout.
Perhaps the lightest, even somber-like tune of the album goes to Simon's "I Do It For Your Love" where the singing and the music is softer than the balance of the session nevertheless, its tender nature is similarly appealing.  The celebration comes to a close on two of the hardest-swinging pieces of the set defining the music.  "Darn That Dream" gets a fresh new treatment with the scatting voices of the group fronting the instrumental voices of the WDR trumpets and bass clarinets doing the honors. New York Voices ends the party with the Chick Corea—influenced showpiece "The Sultan Fainted," a percussive number possessing a slightly Latin flavor powering the group for a twelve and a half minute romp.  Pianist Frank Chastenier, drummer Hans Dekker and percussionist Pernell Saturnino provide the exciting solo moments on this one.
Though a long time in coming, the wait is well worth it.  The big band arrangements, raw energy and excitement of New York Voices Live propels this elite group to another level.  Of course that's not surprising when you combine four superb and talented vocalists with a world-class ensemble, the result should be, and is in this case, a sizzling vocal and instrumental experience.
---
New York Voices/WDR Big Band Cologne: "LIVE"
By Thomas Cunniffe at JazzHistoryOnline.com
It's been a few years since the New York Voices released an album, but the group has continued to tour, performing concerts worldwide, including joint dates with another great vocal group, Manhattan Transfer.  NYV has always tried to find their own musical direction by embracing contemporary pop music as much as standards, and by including several original pieces in their repertoire.  In celebration of the group's silver anniversary, Palmetto has released "New York Voices Live" a superb 2008 live performance with the WDR Big Band of Cologne.
Performing expertly crafted arrangements by Michael Abene, both groups display precision ensemble work and arresting soloists.  The charts allow for a seamless mixture between the voices and the instruments, especially on the multi-tempoed arrangement of "In The Wee Small Hours" (where Kim Nazarian's voice intertwines with the tenor sax of Paul Heller) and the beautifully paced setting of "I Do It For Your Love".  Peter Eldridge leads the forces with a powerful vocal on the rocking boogie version of "Baby Driver". On "Stolen Moments", there's a finely crafted vocal part based on a Freddie Hubbard solo, and a remarkable vocal chorus where the four voices delay the rhythms as if they were one solo voice.  There's plenty of solo room for both the band and the singers, with the scat vocals of Darmon Meader and Lauren Kinhan standing at the same high level as trumpeters Andy Haderer and John Marshall, trombonist Ludwig Nuss, and saxophonists Karolina Strassmayer and Olivier Peters.  On their own, NYV performs a delightful a cappella version of "Almost Like Being In Love" that alternates between strongly marked ensemble passages and diverse sections where each vocalist has their own distinctive role.  The album ends with an exciting workout on Meader and Eldridge's exotic original, "The Sultan Fainted".  Even with a generous running time of 75 minutes, this album seems way too short. And that's all the more reason for the New York Voices to release more recordings in the near future.
---
New York Voices: Live with the WDR Big Band Cologne
By Kit OToole at SomethingElseReviews.com
March 7, 2013
One of the best jazz vocal groups to emerge from the 1990s, New York Voices is marking their 25th anniversary with a live CD, Live with the WDR Big Band Cologne.  Originally recorded in Germany in 2008, the album features the quartet in fine voice backed by one of the best jazz ensembles in the genre.  Instead of performing only jazz standards, New York Voices selects an intriguing mix of jazz, modern classics, and a few original compositions, all adding up to an evening resplendent with technical prowess.
Kim Nazarian, Lauren Kinhan, Darmon Meader and Peter Eldridge clearly admire Paul Simon's poetic, category-defying music, and he is represented here through "Baby Driver" and a gorgeous rendition of "I Do It for Your Love."  On both tracks — and on every other cut — the WDR Big Band Cologne serves as an equal attraction, their arrangements and subtle backing simply breathtaking. On numbers like Annie Lennox's "Cold," the band demonstrates their ability to play blues as well as traditional jazz.
As their name suggests, New York Voices is about tight, complicated harmonies, and they showcase their talents on an a cappella version of "Almost Like Being in Love."  Just listen to the introduction of "In the Wee Small Hours of the Morning," and revel in their extremely sophisticated harmonies.  After this quiet beginning, the band kicks in full force as the group's perfect vocal blend scats over the saxophone solo.  They also swing on "Love Me or Leave Me," the powerful horn section egging on the quartet.
A few original tunes succeed in this setting, such as the Eldridge-penned "The World Keeps You Waiting."  A mentor and frequent collaborator of jazz chanteuse Jane Monheit, Eldridge possess a gift for writing contemporary jazz tailored to a specific vocalist's strengths. Here, he co-authored the tune with Kinhan, and her lead vocals effortlessly glide over some unusual chord changes.
Unlike other concert performers, New York Voices demands undivided attention from their listeners.  Their four-part harmonies work together in ways seemingly simple to the "naked ear," but a closer listen reveals otherwise.  Most of the songs on Live with the WDR Big Band Cologne clock in at over six minutes, with two surpassing the ten minute mark ("Stolen Moments" and the Eldridge/Meader-penned "The Sultan Fainted").  Their renditions resemble meditations more than just basic performances.  The New York Voices members leisurely explore every melody, linger over lush chords, and expand upon moods and themes already present in the lyrics.  With the Big Band's intricate and precise backing, they group invites the audience to appreciate jazz on a technical level rather than simply an emotional one.  Need another example of their advanced vocal skills? Look no further than their rendition of James Van Heusen's "Darn That Dream," a track featuring a challenging melody that the group navigates with apparent ease.
The pairing of New York Voices with the superior WDR Big Band Cologne results in a thoroughly fascinating listening experience.  It documents a performance that encourages the audience to think as well as feel, to deconstruct standards and hear the group reassemble the melodies and harmonies.  The flawless Big Band serves them well, and enhances their tight vocal blend.  Pick up Live with the WDR Big Band Cologne and appreciate how New York Voices has matured since their late-80s beginnings.
---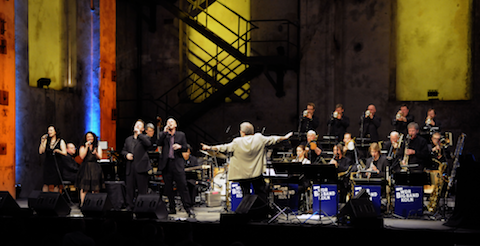 New York Voices: Live with the WDR Big Band Cologne
By C. Michael Bailey at AllAboutJazz.com
February 21, 2013
New York Voices celebrates its Silver Anniversary with the release of the jazz vocal quartet's first completely live recording, Live with the WDR Big Band Cologne, recorded at the Kölner Philharmonie in May, 2008.  Sharing a jazz ensemble field with Manhattan Transfer and the Uptown Vocal Jazz Quartet has in no way dampened the group's efforts to carve out its place.  In fact, New York Voices has done a very effective job, doing so with authority; the group displays a versatility that has been widely remarked upon in jazz literature and is in abundant evidence here.
Backing the quartet is the 350-horsepower West GermanRadio Big Band Cologne, which has provided similar support to jazz artists as disparate as trombonist/composer Bob Brookmeyer, saxophonist Maceo Parker and singer Patti Austin.  The quartet allows this fine band equal time in solos, all appropriate for the material played.  The show is dynamically arranged (with new orchestration by Michael Abene) to address a spectrum of jazz vocals and performance from the swing era to the zenith of hard bop.
The quartet covers two Paul Simon songs: "Baby Driver," from Simon & Garfunkle's Bridge Over Troubled Water (Columbia, 1970), given a tremendous big band treatment that incorporates much from swing era harmonies, deftly mixed with the influence of Lambert, Hendricks & Ross; and "I Do It For Your Love," from Still Crazy After All These Years (Warner Bros., 1975), which is treated as a delicate ballad with plush orchestration (by Michael Abene) and careful arrangement by Gil Goldstein, Andy Ezrin and the Voices.  The band's famous arrangement of singer Mark Murphy' lyric-driven version of Oliver Nelson's "Stolen Moments" comes early in the set, a ten-minute tour de force featuring solos by trombonist Ludwig Nuss and alto saxophonist Heiner Wilberny.  Arranged by the Voices' Darmon Meader, the piece features some great ensemble scatting before the horn solos. Very impressive.
Anchoring the performance is the group's rendition of Jimmy Van Heusen's "Darn That Dream," arranged again by Meader, Lee Pardini, and fellow New York Voices partner Peter Eldridge, who handles the lead vocals.  Also lengthy, but justified for the invention put into it, the remaining vocalists double the horns and provide continuous harmony and background vocals.  Eldridge allows time for Jens Neufang to solo on bass clarinet, while Meader gives a clinic on scat before handing the reigns to trumpeter John Marshall for a low key but radioactive solo.  There are other surprises to be found, including Annie Lennox's "Cold," Walter Donaldson's "Love Me Or Leave Me," and the beautifully schizophrenic "In The Wee Small Hours In The Morning."  A very entertaining concert offering something for everyone.
---
Pops '70's Remix is Super Sweet
By Mary Ellyn Hutton at The Cincinnati Enquirer
November 8, 2011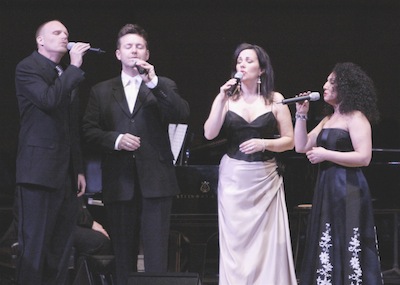 A disco ball hung over the Music Hall stage for Sunday evening's Cincinnati Pops' "Remix" concert, "Sweet Sounds of the '70s," let by Pops conductor John Morris Russell.
The emphasis was on "sweet," with guest artists New York Voices, a jazz-fusion vocal quartet with the prodigious ability to harmonize "very closely" and ornament just about everything.
There was music by some of the great singer/songwriters of the decade, Paul Simon, Stevie Wonder, Carole King and Joni Mitchell, and bands such as Chicago, Earth, Wind and Fire, the British rock band Queen and the Bee Gees.  The concert was the New York Voices' Pops debut at Music Hall.
There was a familiar rumble as Russell walked onstage to the opening bars of Richard Strauss' "Also Sprach Zarathustra" (from "2001: A Space Odyssey").  This was followed by a rousing performance of the Overture to "Tommy," the rock opera by The Who's Pete Townshend.  The powerhouse NYV – Peter Eldridge, Lauren Kinhan, Darmon Meader and Kim Nazarian – came on with a Chicago medley, beginning with "Does Anybody Really Know What Time It Is?"
"Think of eight-track tapes in your Ford Pinto," said Meader, who arranged most of the music on the program. Meader played a mean saxophone too, in "Ain't No Sunshine," the early '70's R&B hit by Bill Withers.  This was followed by "That's the Way of the World" from the 1975 R&B album by Earth, Wind and Fire.
Carole King was on tap in Meader/Eldridge's arrangement of "It's Too Late," " So Far Away" and "I Feel the Earth Move," from her best-selling album "Tapestry."  At this point, you could almost feel the air vibrating around you.  The audience could relish that straight up in the Bee Gee's "How Deep Is Your Love," performed as a quartet (without orchestra).  Simon's "Me and Julio Down by the Schoolyard," with Nazarian as a vivacious lead, brought the first half to an end.
Russell and the Pops opened the second half with a lively, infectious Stevie Wonder medley, including "Superstition," "You Are the Sunshine of My Life," "I Wish," "My Cherie Amour" and "Sir Duke."  Compliments to Pops' guitarist Tim Berens not only for his notable contributions throughout the concert, but also for his arrangement of this medley.  Eldridge played keyboard in Simon's "Mother and Child Reunion," while Kinhan was a swinging soloist in Joni Mitchell's "Free Man in Paris."
The highlight of the concert was Freddie Mercury's "Bohemian Rhapsody" (arranged by Meader and Eldridge with orchestration by Jeff Tyzik).  New emotional chords were struck with each shift of the cryptic lyrics, and the cumulative effect was devastating.  A Medley, "Guilty Pleasures," had the disco ball turning, with numbers such as "Car Wash," "Stayin' Alive" and "Rock the Boat."
---
Jazz Group New York Voices Gaining Pop Fans with Latest Release, 'A Day Like This'
By Doug Levine at The Voice of America
September 27, 2007
You don't have to be a fan of jazz to appreciate the veteran vocal group New York Voices.  As VOA's Doug Levine tells us, the quartet's new CD is a "must-have" for pop fans as well.   When you hear New York Voices sing their own lyrics set to John Coltrane's "Moment's Notice," it's pure jazz. But, when the group's Darmon Meader, Peter Eldridge, Kim Nazarian and Lauren Kinhan takes on a Stevie Wonder tune, they give it the full pop treatment.
---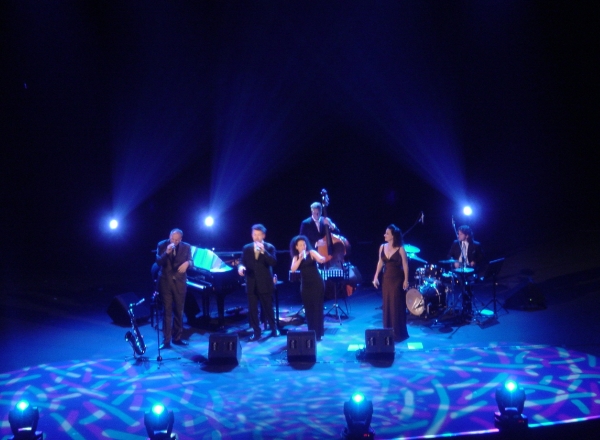 Riveting Riffs Review
By Joe Montague
August 2007
Doesn't seem to matter if it is Kinhan's lush vocals on "The World Keeps You Waiting," Nazarian's cooing on "In The Wee Small Hours Of The Morning," or Meader's scat solo from "On A Clear Day," the vocal ensemble is always breathtaking.  The timbre of Eldridge's vocals adds depth and texture to many of these great songs.
Lush, well-textured arrangements were written for songs such as "A Day Like This," or Meader's arrangements for "On A Clear Day," which are in my estimation even better than the original arrangements.  That is no disservice to Burton Lane (lyrics by Alan Lerner), who wrote the song for the musical, On A Clear Day You Can See Forever, it is simply to say that Darmon Meader took an already strong composition and made it even better.
Like the Manhattan Transfer, New York Voices have defied time, and the short lifespan that is the inevitable fate of so many talented musicians and artists.  They have done so by continually providing breathtaking vocal performances such as we hear on "Love You Madly" and "As We Live And Breathe."  The listener experiences the thrill that you can only experience, while listening to music that is to be treasured, and held in your heart.
"No Moon At All," is an enchanting tune that had me wishing I was on a ballroom floor.  Mike Tomaro has an absolutely wonderful baritone saxophone solo.
This CD has so many great musicians it is a shame that we cannot mention all of them.  They include Meader who doubles on tenor sax and Eldridge who doubles on piano, as well as, Pacquito D'Rivera's pretty clarinet playing on "Chamego (Betty's Bossa)" and Jay Ashby's masterful trombone solo on John Coltrane's "Noticing The Moment." Bob Mintzer (bass clarinet), Dave Samuels (vibes) and Gil Goldstein (accordion) all put in great performances on A Day Like This.  We would be remiss in not mentioning that Nazarian and Eldridge wrote lyrics for the previously instrumental "Noticing The Moment," and it further enhances the music.
New York Voices provides good contemporary interpretations of Stevie Wonder's "Don't You Worry 'Bout A Thing" and revitalize Laura Nyro's "Stoned Soul Picnic."  On the Wonder tune Chuck Loeb guests on guitar, and as one would expect is stellar. Jay Ashby's percussion is energetic.  I really liked what Eldridge and Meader did with the new arrangements for "Stoned Soul Picnic," and the ensemble, well for lack of a better word adds a lot of soul.
This is already a classic CD and it doesn't hit the streets until this week.
---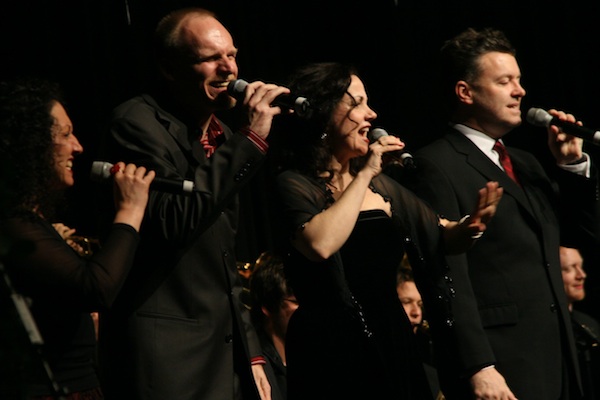 Pittsburgh Tribune Music Review
October 18, 2006
The New York Voices blended material with the ease of a master chef Friday night at the Manchester Craftsmen's Guild, North Side.  Opening with their classic treatment of "Sing, Sing, Sing," the vocal quartet quickly established its sound and style.  It wasn't long, however, before the group was doing new songs such as "A Day Like This" and new arrangements of older material.
Unlike groups such as Manhattan Transfer, which is locked in an image created decades ago, the members of the Voices seem interested in musical growth and exploration.
The Voices' version of "Stoned Soul Picnic," for instance, took the Fifth Dimension classic and gave in a twist with modern jazz phrasing and rhythm.  The vocal skills of Kim Nazarian, Lauren Kinhan, Peter Eldridge and Darmon Meader were precise on all tunes.  They were even able to give freshness to older material such as Duke Ellington's "Love You Madly."
---
Voices Sublime: New York Voices with the BBC Big Band
Dorking Halls
November 15, 2002
Having been a contributor to this wonderful world of show-business for some considerable time (or so the rumors would have it!), I am increasingly economical with certain words of description.  Words like 'sensational' and 'fantastic' and 'unbelievable' top the list of those to be avoided until — that is — this evening, after listening to, and being blown away by, the distinctive sound and superb contemporary vocalization of a two-boy, two-girl vocal ensemble with the simple and easily remembered name — 'New York Voices'.  With great backing from the BBC Big Band, they produced two 30 minute sets that were simply breathtaking in the extreme, lifting the audience, including many hardened musical 'pro's' to moments of rapture and to their feet in unabashed acclaim.
That they brought shades of harmonies reminiscent of the Hi Lo's, The Four Freshmen and, particularly, Singers Unlimited and Manhattan Transfer to their performance was purely coincidental for this sensational quartet are unique both in style and musical presentation.  Their phrasing is a joy to the ear, their timing exquisite and their arrangements are to die for.  They are, unquestionably, the vocal giants of jazz and superb singers of swing, much deserving their world wide recognition.  They 'scat' in four part harmony and transcend from the crazy triple time lyrics of 'Cloudburst' to the more gentle, refined notes of romantic ballads, like 'I Can't believe You're in Love with Me'.  Their a cappella arrangement of 'I'll Be Seeing You' proved a thing of elegant beauty and affirmation of the genius that underlines their work.  Sadly, and unbelievably, although feted throughout the western world and particularly, in the USA, they are mainly ignored in Great Britain.  The four — Peter Eldridge, Darmon Meader (a superb saxophonist), Lauren Kinhan, and Kim Nazarian — are worthy of the Albert Hall, The Palladium and all the great concert halls in the UK.  They deserve to be showcased both live and on national TV in order that every jazz and swing fan can marvel at their masterful interpretations.  Will someone please do something about this dreadful oversight?
---
About New York Voices – Sing The Songs of Paul Simon:
"New York Voices pull out a project so inspired it makes one wonder why no one has thought of doing jazz vocal renditions of Simon's most memorable tunes before…"
– Billboard Magazine
"…full of life, teeming with energy and bursting with melody.  The arrangements are brighter and brassier than Simon's originals, but there's a real charm to the performances that makes it a thoroughly entertaining experience…"
– All Music Guide
---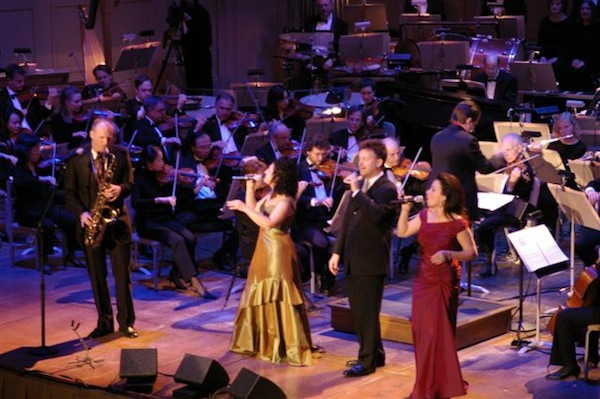 About New York Voices Live Performances:
"New York Voices lives up to its reputation as the most exciting vocal ensemble in current jazz… to collect such quality voices in one group is rare enough, yet the real trick of New York Voices is how well they mesh…"
– Boston Herald
"Meticulous, polished and dead serious in their pursuit of vocal excellence, the Voices manage to maintain a genuine playful approach that makes it all look a little too easy.  Their stage manner somehow shrinks even the largest venues into intimate cafes where each patron feels personally entertained…"
– Manchester Craftsmen's Guild
"How Voices squash their previously five-part formulas into four-parts is one of the new great wonders of the world.  If there is anything wrong with their presentation, it's that its sizzling pace leaves listeners breathless and not quite sure how to assimilate what it is they've heard.  Voices takes disciplined uninhibited singing to a new higher level of disjointed unity…"
– Reno Gazette Journal
"The jazz vocal quartet paid tribute to the giants of their tradition — while standing pretty tall on its own…"
– The Indianapolis Star
---
Pittsburgh Tribune Music Review
By Bob Karlovits
August 26, 2007
… this vocal foursome just sings and swings with impeccable harmony and understanding of each others' vocal parts.  The breadth of the group's performance is the most remarkable thing. 'A Day Like This' never stops offering something new.  Ranging from a nearly a capella version of "Stoned Soul Picnic" to sitting in with a big band on "Don't You Worry About a Thing," the New York Voices constantly show how bright the outlook is on "A Day Like This."  The best thing is that they do that without always trying to prove how cool they are, as Manhattan Transfer too frequently does.  Instead, this vocal foursome just sings and swings with impeccable harmony and understanding of each others' vocal parts.  The breadth of the group's performance is the most remarkable thing.  They sound great on their own, as on "Stoned Soul Picnic," where they are accompanied only by percussionist Ben Wittman. But they also fit perfectly with the big band, which features saxophonist Mike Tomaro from Duquesne University.  Other times they work in small group settings with such guests as Bob Mintzer on bass clarinet or with Paquito D'Rivera on clarinet.  The group also does "Noticing the Moment," their own version of "Moment's Notice," the John Coltrane classic.  "A Day Like This" never stops offering something new.