Vocal Jazz Camp
Find your Voice in Vocal Jazz
2018 NYV Vocal Jazz Camp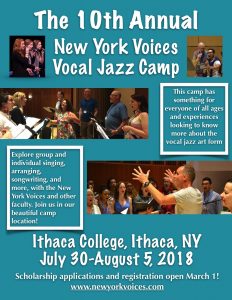 New York Voices hosts an annual vocal jazz camp each summer.  Aspiring jazz vocalists have a great opportunity to work and sing with the foremost vocal jazz quartet of our time in an intense six-day workshop setting.
The 10th annual New York Voices Vocal Jazz Camp will be held on the campus of Ithaca College in Ithaca, NY from July 30 – August 5, 2018.
This unique camp is open to high school and college students, professional musicians, choral directors and anyone interested in improving and developing their knowledge of the vocal jazz genre. Lauren Kinhan, Darmon Meader, Peter Eldridge and Kim Nazarian will work with singers and ensembles in clinics, ensemble classes, coachings and special interest sessions pertaining to the art and performance of vocal jazz. Pre-established groups are also welcome and encouraged to attend. In addition to New York Voices, the camp faculty includes long time friends and colleagues, Greg Jasperse and Jay Ashby.
---
A Note From the Director:
There is no place I'd rather be than watching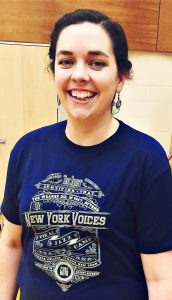 the New York Voices Vocal Jazz Camp unfold every summer. What amazes me is how every year, no matter how many new campers we have, the supportive, non-competitive, nurturing environment remains the same. For six days, campers are challenged, collaborate with each other, and get to experience the magic of the best in vocal jazz. The connections fostered at camp last forever, and have built a community of vocal jazz enthusiasts from all over the world! Please join us in the beautiful Finger Lakes region of New York at Ithaca College for the 10th Annual New York Voices Vocal Jazz Camp, July 30 – August 5, 2018!
Kate Kooser
Camp Director