International Camp
New York Voices International Vocal Jazz Camp, Slovenia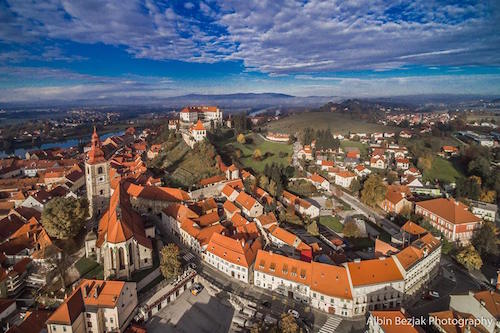 With great pleasure we announce the 2nd Annual New York Voices International Vocal Jazz Camp in Ptuj, Slovenia. The camp will be held July 10-16, 2017.
Participants have a great opportunity to work and sing with the foremost vocal jazz quartet of our time in an intense six-day workshop setting. The focus will be on both groups and individuals, to be workshopped and finessed by the supple teaching styles of NYV.  Aspiring jazz vocalists will have coachings with New York Voices, sing in smaller ensembles accompanied by rhythm section and directed by one of New York Voices, take classes in improvisation, arranging, vocal technique, rehearsal techniques, and more! Campers will also participate in an all-camp ensemble.
Select participants attending the camp will have a chance to perform throughout the week in different venues of the town and in the courtyard of the beautiful Dominican Monastery.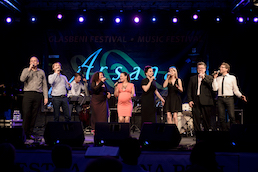 On Saturday, July 15, vocal ensembles will perform in the camp's closing concert at the big stage of The Minorite Monastery joined by the mentors – New York Voices and the Slovenian host of the camp – vocal quartet Vox Arsana.
This unique European camp is open to high school and college students, professional musicians, choral directors and anyone interested in improving and developing their knowledge of the vocal jazz genre. Kim Nazarian, Lauren Kinhan, Darmon Meader and Peter Eldridge will work with singers and ensembles in clinics, ensemble classes, coachings and special interest sessions pertaining to the art and performance of vocal jazz. Pre-established groups are also welcome and encouraged to attend.
All lessons will be held at Highschool Campus Gimnazija Ptuj, where we provide all the necessary for effective learning and making good music.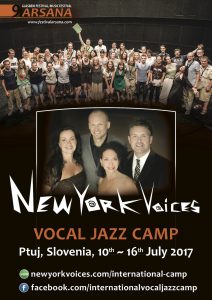 TOTAL TUITION FEES: 599 Euros
Host Country Discount (first 10 Slovenian campers to register) 499 Euros
Early Bird Discount (first 10 non-Slovenian campers to register) 549 Euros
If you are under the age of 18 and interested in attending the camp, you MUST be accompanied by an adult chaperone.
OPEN TO SOLOISTS AND GROUPS!!!
---
Registration
Please pay AT LEAST the 200 Euro deposit to secure your spot at the New York Voices International Vocal Jazz Camp. All payments must be received by June 10, 2017. Once your deposit has been paid, you will be emailed a registration form to complete. All payment must be submitted by June 10th.
Deposit – 200 euros
Host Country Discount Tuition (for Slovenian campers)- 299 Euros
Early Bird Discount Tuition (for non-Slovenian campers) – 349 Euros
Tuition – 399 Euros
---
Housing
There are three options for housing this year. Rooms are limited, so we ask you to please consider sharing a room with another camper. All housing costs include 6 nights (July 10-15) and breakfast each morning you are there. All costs are per person. Any additional nights needed to accommodate for travel must be arranged by the camper. No changes to housing can be made after June 10, 2017.
2 star Hostel Housing – 150 Euros (each room has 2 or 3 beds)
4 star Hotel Housing – 228 Euros per person for a shared room
4 star Hotel Housing – 252 Euros per person for a single room
4+ star Hotel Housing – 390 Euros per person for a shared room
4+ star Hotel Housing – 450 Euros for a single room
---
Meals
100 Euros for all meals (besides breakfast, which will be served at hotels)
---
How to Get There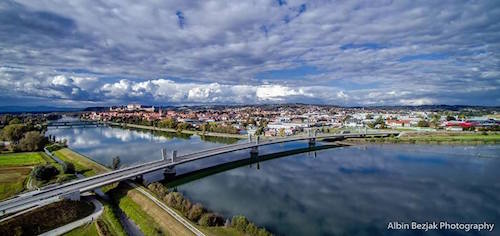 There are several international airports you can fly to in order to get closer to Ptuj: Graz (90km), Ljubljana (130km), Zagreb (100km) and Vienna (290km), being the closest. There will be a special camp minibus organized from Graz airport to Ptuj scheduled to depart Graz at 1pm July 10. You will be able to order the ride when registering for the camp.
Should you decide to use other airports there are regular bus/train lines going to Maribor and from there onwards to Ptuj. Please check the timetables available online. The other option is scheduling a GoOpti ride available on-line.
Should you decide to drive by car there is E59 highway coming in from Austria (north) and from Croatia (south), E653 from Hungary, and E61/E57 from Italy.
---
A Note From the Organizers
After great experience organizing our first international New York Voices Vocal Jazz Camp in Ptuj, Slovenia, last year, I am so enthusiastic that this unique gathering is finding it's way back to our beautiful country of Slovenia. Ptuj is one of Slovenia's oldest towns, rising gently above a wide valley and forms a symphony of red-tile roofs best viewed from across the Drava River. This picturesque continental town nowadays boasts the richest heritage of the past and offers a perfect location for singers to immerse themselves in making music together, while also feasting upon the local culture and surroundings. Besides many restaurants, cafés and sights visitors can fully relax at Ptuj Spa with a big water park and a wonderful wellness at the Primus Hotel. The camp is also a part of local international summer Festival Arsana that offers many great events, concerts and new connections for young musicians. So, you are more than welcome to join us on our music journey and gain some of the most priceless experiences.
Samo Ivačič
Camp Techincal Director
You can find more information about faculty, class descriptions, the schedule and more on the American Camp web page.
---
Festival Arsana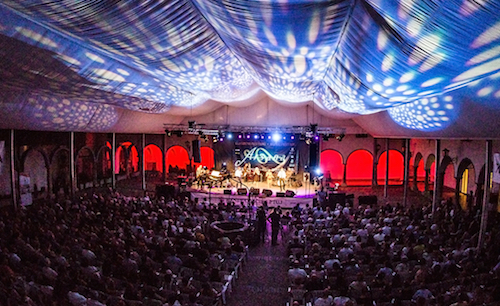 FESTIVAL ARSANA is the largest festival in Ptuj attracting more visitors and famous names from all over the world every year and is becoming an important promotion for the city and a fountain of creativity on a European and global scale.
FESTIVAL ARSANA organized over 400 concerts of classical, jazz, folk, world, pop, instrumental and vocal music, hosted 3500 artists of international reputation and attracted over 150 000 visitors from Slovenia, Europe and other foreign countries. During the festival there are events happening like classic international Summer Music Academy, a vocal camp, outreach events, seminars, dance performance, lectures, round tables, culinary events, performances by young musicians, fairy tales, workshops and more…
---
Scholarships
Scholarship applications have closed for 2017.