International Camp
New York Voices is thrilled to announce our partnership with Bayerische Musikakdemie Marktoberdorf in beautiful Germany.  We will be holding our Vocal Jazz Camp from August 25-31, 2019.
Click here to register
We are so excited to be making our reappearance in Europe, offering our special summer vocal jazz camp for all our International friends.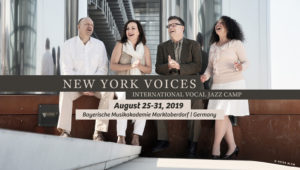 This is a six-day music intensive focusing on group and individual singing with many specialized electives sprinkled in throughout the curriculum.  Aspiring jazz vocalists are assigned to one of the four vocal jazz choirs which are directed by each of the New York Voices.  They learn two arrangements throughout the week that culminate in the final performance.  Campers also enjoy solo coaching from New York Voices and select their own track of classes which may include improvisation, arranging, vocal technique, rehearsal techniques, and more!  Plus, campers participate in an all-camp ensemble that bond over an arrangement at the end of every day.
There is no audition, first come first serve.  Unless you would like to apply for a scholarship.
OPEN TO SOLOISTS AND GROUPS!!!
A Note From New York Voices,
We are so grateful to our partners at Bayerische Musikakdemie Marktoberdorf and Ann Czichowsky who helped make this move to this gorgeous location so easy.  The facility is fully outfitted for all of our classes, a beautiful venue for our evening concerts and the meals will be healthy and delicious.  For those of you staying on campus, you will enjoy the bright rooms and airy hallways.  You may also stay in a nearby hotel.  They are amazing people, hosts and dear friends and appreciate their faith in us.
Looking forward to meeting you,
Kim, Lauren, Peter and Darmon  (New York Voices)
---
The final concert for the Campers happens on August 30th, celebrating the accomplishments of the week's daily schedule.  There will be special one-day classes on this day, followed by a run through of the show with final comments by NYV, and then the premiere of music from each of the choirs.
Stay tuned for news of an additional concert by New York Voices.