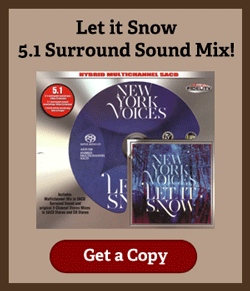 Welcome to the official website for the internationally acclaimed jazz vocal group New York Voices!
Holy Holiday, Batman, "Let it Snow" is now available in 5.1 Surround Sound.  For all you audio files with a 5.1 Surround listening set up, this is for you!  Included on the SACD is also a high end stereo mix.  Not to worry, though, the regular stereo release is also still available right here, for your listening pleasure!
Take a look around, we've expanded our online store to include over thirty of our published vocal jazz arrangements; easy for you to listen to and decide which one you're going to try on!  And of course, browse the various CDs we've recorded in our 26 year long career and pop in on our video page.   There's a new area dedicated our awesome vocal jazz camp offered each summer at BGSU in Bowling Green, Ohio.  Registration opens in January, there is limited space, so apply swiftly.  In fact, if you don't want to miss it, CLICK HERE to sign up for our email list, so you'll get up to the moment announcements on all things NYV.
And before you go, write something on our  Facebook fan wall.