The 13th Annual WMU-NYV Vocal Jazz Camp
THE
V3

EXPERIENCE


V

irtual

V

ocal

V

illage
August 1-7, 2021

That's right! The 13th annual Western Michigan University – New York Voices Vocal Jazz Camp is happening again online. And when we say "happening"….we mean "HAPPENING!!"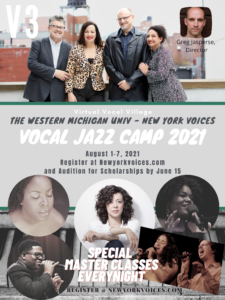 We're taking last summer's experience of Virtual Vocal-Palooza to new heights, adding more guest artists master classes and expanding the immersion and experience to be one that uplifts, educates and invigorates your senses.  We are curating artists and educators from a wide range of disciplines and genres, some of whom we've met along our 33 year long career traveling the planet and some are current stars that we love and adore.  Every night we will hear from one of these magnificent artist/educators: Lucian Souza, Johnaye Kendrick, Reginald Bowens, Christie Dashiell and FreePlay (Suba Sankaran and Dylan Bell).  And our opening night will be a panel of rising stars that are going to tell us all about the ride….featuring the recent Ella Fitzgerald winner Lucy Wijnands and 2019's Sarah Vaughn winner Samara Joy.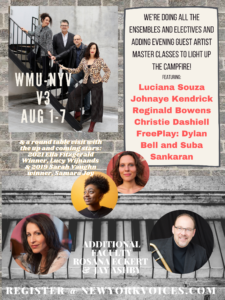 Riding on the success of last year's cyber experience, we will again offer the a la carte menu that you can design to fit your own desires, level of immersion and time zone.  Last year we had virtual campers from all over the United States and the World!   We understand Zoom fatigue is real, so make this camp work for you, while also pushing yourself to invest in your artistic growth and stimulation during the long summer days.   We will be taking advantage of the modalities available to us to create the feeling of singing together in the 4 ensembles directed by the members of NYV while also giving you personal critiques and suggestions on how to improve.  In fact, many of the guide tracks you will be singing along with are "yours truly," so you will have the chance to really latch onto the subtleties that we employ while also adding your own sound and flavor to the mix.
The electives listed below are what you may expect will be offered, but bear in mind our guest master clinicians will also offer other topics that we know will be inspiring and informative for you during this virtual deep dive.
Online classes, ensembles, and one on one coaching will make use of  Zoom, Soundtrap, and iReal Pro (when looking for basic accompanying tracks).  If your charts are sent in ahead of time, piano tracks can be prepared for you for your one on ones and evening concerts.  Speaking of evening performances, every night except for Wednesday, there will be concerts from our campers, staff and members of New York Voices, so plan on full days and entertaining nights.  Every camper will be offered a moment to shine in the evening shows, so bring your song and plan on strutting your stuff!
The scholarship submission deadline is extended to June 15.  APPLY HERE
Campers Helping Campers – Donate to the "Play it Foward" Scholarship –  established by campers that want to make sure other campers get to enjoy the experience.  You don't have to be a past camper to donate, who doesn't want to "play it forward"?  Donate Here
To Register for the Camp, Click Here
Please direct your questions to our camp manager Maria Rusu at
Three Sessions Per Day
Session 1: 11:00 AM – 1:30 PM (EST): Electives (see class list below)
Session 2: 2:30 PM – 5:00 PM (EST): Ensembles and One-on-One solo coaching
Session 3: 6:30 PM – 10:00 PM (EST):  6:30-7:15 All Camp, 7:15-8:15 Special Guest Experience/Master Class and 8:30-10:00 Camper/Faculty Spotlight Performances
Pricing
Session 1 & 2: $200/each
Session 3: $200 (session is required for spotlight performance consideration)
Sessions 1, 2 & 3: $550
Deposit of $100 is due by June 15, 2021 (nonrefundable). Final payment is required by July 1, 2021.
Electives for Session 1
Songwriting • Before and After • Singers You Should Know • Body Breath, Sound • The Importance of Rhythm • Making a Song Your Own • Beginning and Advanced Arranging Intermediate Improv • Advanced Improv • Artist in the Making • Use Your Ears • Lyrical Improv and Phrasing • The Business of Me • Vocal Health • Portuguese • Jazz History Percussion • Listening Through the Layers • Writing your First Chart • Solo Transcriptions
Camp Schedule Overview:
8/1: Welcome and Orientation, 4 PM (BYO Pizza), Panel Discussion with our Rising Stars featuring Lucy Wijnands and Samara Joy
8/2: Day 1: Session I, Session II, and Session III, Evening Master Class with Johnaye Kendrick
8/3: Day 2: Session I, Session II, and Session III, Evening Master Class with Luciana Souza
8/4: Individual practice/catch up day!!! Evening Game Night (optional)
8/5: Day 3: Session I, Session II, and Session III, Evening Master Class with Reginald Bowens and Christie Dashiell
8/6: Day 4: Session I, Session II, and Session III, Evening Master Class with FreePlay: Suba Sankaran and Dylan Bell
8/7: Nia Dance Class 11AM, Q & A with NYV and Faculty 12:15 PM,
7 PM Virtual Ensembles Video Debuts and Camp Wrap Party!